2 Comments
Kale Salad with Miso, Garlic and Lemon Dressing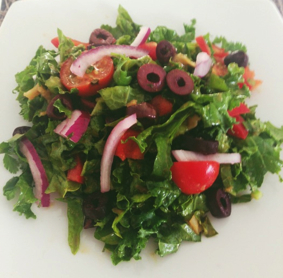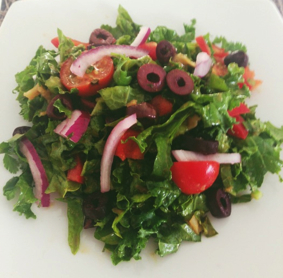 Dressing
¼ cup of shiro miso
3 lemons, juiced
2 garlic cloves, minced
1 small red chilli, diced
In a food processor, puree all of the ingredients. If you do not have a processor, mix miso in a bowl with lemon juice. Use a mortar and pestle to pound the garlic and chilli and add to the miso mix. Add a little water if needed.
Salad
3 large leaves of curly Kale, diced
½ purple onion, chopped
¼ cup of black kalamatta olives, diced
A handful of coriander, diced
½ punnet of cherry tomatoes, halved
Add kale to miso mix and let this marinate for ten to twenty minutes. Place kale on a bowl and add the rest of the chopped ingredients. Pour the rest of the miso sauce over the top. Enjoy!!!