No Comments
Thai Coleslaw with Nam Prik Dressing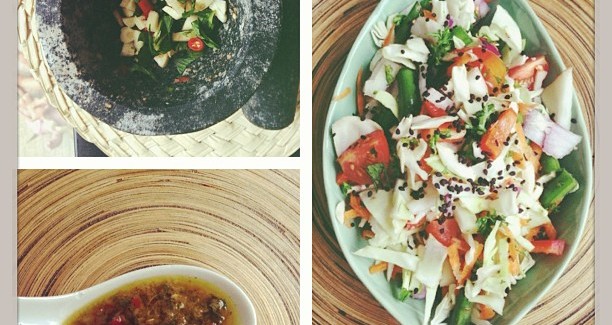 Serves 4
Salad
½ cabbage, shredded
1 carrot, grated
1 tomato, shredded
10 green beans, diced in one inch lengths
½ Spanish onion, diced
Coriander, shredded
A handful of black sesame seeds
½ red capsicum, diced
Mix all of the ingredients together and place in four bowls.
Dressing
3 red chillies, diced
4 garlic cloves, diced
1 inch chunk of ginger, diced
A handful of mint
2 teaspoons of fish sauce or celtic salt
1 teaspoon of agave or yacon syrup
3 limes, juiced
¼ cup of hemp, olive or sesame oil
In a mortar and pestle, grind chilli, garlic, ginger and mint. Add in natural sweetener, seasoning and lime juice. Mix together and slowly add in oil. Let this sit for a few minutes and then pour over salad. Absolutely delicious! Try putting some crushed almonds or organic peanuts over the top.