No Comments
Raw Tropical Buckwheat Crispies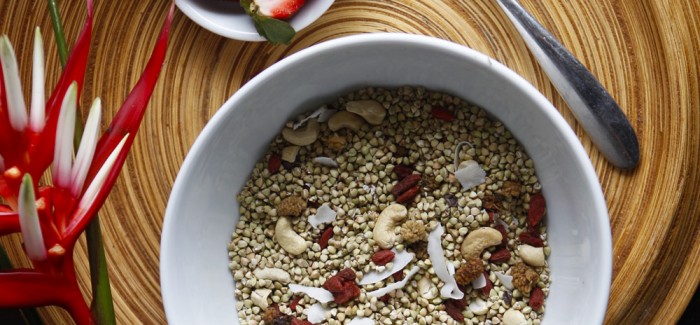 Makes 2 bowls
Ingredients
2 cups of buckwheat crisps
1/2 cup of sunflower seeds
1/4 of pecans or cashews
1/4 cup of goji berries
1/4 cup dried white mulberries (optional)
1/4 cup coconut chips (or shredded coconut)
Method
Mix all ingredients together and put into bowls. Serve with a little nut milk.
For those who like things a little sweeter, add cacao nibs, raw honey or yacon syrup and stir through.
About Buckwheat
Buckwheat is a alkaline grain that is high in minerals like magnesium, manganese and copper. Buckwheat protects against breast cancer and other hormonally induced cancers.
This recipe and many more from Raw Addiction.