Silica was once nicknamed the 'forgotten mineral' as its amazing metabolic functions were completely unknown.  Now that health advocates are discovering its many and varied roles in the human body, it is no longer forgotten, but rather being revered for its vital healing functions.
Nearly every client I consult with, including kids, are showing a deficiency in silica.  Silicon used to be the most abundant mineral found in the Earth's crust until we started over-processing crops and polluting soils with pesticides.  It is found in our bones, teeth, cartilage, tendons, nails, capillaries and connective tissues where it provides strength and stability to collagen, the cement that holds everything together. When we are babies, we have huge amounts of silica stores, but once we get over the age of twenty-one our stores begin to deplete at around 1% per year and along with this so does collagen production.
Calcium is completely useless in the body without silica and this is because silica is needed to carry calcium into vital body structures like the bones. Along with Vitamin C, specific amino acids and glycosaminoglycans or GAG's, silica boosts collagen production improving our firmness, tone and elasticity in the skin.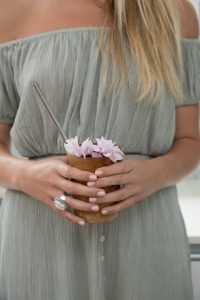 So why are silica deficiencies so common today, even in little ones? Apart from a lack of silica stores in Australian soils, the other big problem is the amount of aluminium in our environment. Silica helps to chelate (pull) aluminium from the body and unfortunately our environment is now flooded with this toxic heavy metal. The fluoridation of water involves dumping aluminium salts into our water supplies, so everyone is now showering in aluminium and/or drinking this too. This is why I put whole house filtration systems on all of my homes to block out these toxic heavy metals. On top of this aluminium is found in cans, makeup, skincare, deodorants and nearly everywhere you could imagine. Luckily silica acts as our friend helping us to pull this out of the body, but unfortunately this can lower the body's silica stores.  If silica stores become low your hair, skin, nails and connective tissues are the first to suffer.
I have been testing many different brands of silica supplements all claiming to be the best natural sources of this mineral, and luckily I have an amazing device that can test mineral deficiencies to help me prove which is the best & what is purely marketing. Most of the brands I have tested do not absorb well. I have found organic forms of silica and natural sources from ICELAND are the best. For more information on doing an accurate mineral test, what is the best silica supplement to purchase to beautify your hair, skin and nails or even where to buy the best whole house filtration systems, feel free to get the best advice from one our amazing health practitioners at www.katrinaellis.com.au or call 0755363113.  I have written extensively about silica in my new book 'The Alchemy of Beauty' – out very soon!
Warning signs of silica deficiency include brittle nails, longitudinal ridges on the nails, poor hair growth and breakage, hair loss, premature wrinkles, osteoporosis, poor muscle tone, cellulite and stretch marks especially following pregnancy, brittle teeth, dental caries, acne, eczema, boils, scarring, kidney stones, gallstones and prolapses.
Silica Super Heroes
Romaine lettuce, cucumber (mainly the skin), apples, oranges, cherries, mango, cabbage, onions, endive, carrots, eggplant, pumpkin, celery, beets, bamboo shoots, alfalfa, artichoke, radish, spinach, asparagus, watercress, green beans, the skin of tomatoes, brown rice, barley, millet and oats.  Silica levels are highly dependent on levels within the soil.
The best herb sources are horsetail, nettles, comfrey, chickweed and burdock root.